Elsie Quarterman (1910-2014), Centenarian Ecologist
by John S. Quarterman and other relatives and friends.
Update 15 June 2014: Memorial service for Elsie Quarterman in Nashville, TN 2014-06-21:
Dr. Elsie Quarterman, November 28th 1910 — June 9th 2014

Today Aunt Elsie stepped over the final fence, dying peacefully at her home in Nashville, Tennessee, attended by her nephew Patrick and his wife Ann, as she had wanted....

See the Elsie blog page for many more stories and pictures of Aunt Elsie.
Dr. Elsie Quarterman, Ph.D., remembers the celebrations at the end of World War I in Valdosta, Georgia, where she was born 100 years ago in November 1910. Her father David Sinclair Quarterman was from an old Georgia family, and her mother Alla Irene Peek traced her line back to colonial Virginia (with many Scots in both lines).
Elsie's father's mother was Susan Evalyn "Susie" Sinclair. Susie's father was Benjamin Waters Sinclair, who emigrated from Thurso to Georgia in 1837. B.W.'s descendants are scattered across the U.S. southeast. His parents were Alexander Sinclair, merchant of Thurso, and Catherine "Kitty" Waters, of Brims Castle; they are buried in Old St. Peters Kirk in Thurso. Alexander of Thurso's father was William of Clarville, son of John of Golval, son of Alexander; many Canadian Sinclairs descend from this line.

Alexander Sinclair,
b. 1778, Tongue, Sutherland,
d. 1852, Thurso

Catherine ``Kitty'' Waters,
b. 1778, Brims Castle,
d. 8 Nov 1850, Thurso

Benjamin Waters Sinclair,
b. 12 Sep 1812, Thurso,
d. 7 Jul 1878, Quitman

Susannah Canby Faries,
b. 18 Jan 1819, Savannah,
d. 3 Jul 1890, Quitman
Elsie moved with the family to the family farm in 1921, where she first learned about wild plants from her mother. She played basketball at Hahira High School, and taught school in Morven, Georgia. In 1937 her sister Jane supplied a car for a trip her brother David organized with Elsie, their cousin Helen Quarterman, and friend Mary Small across the country to see the new Golden Gate Bridge.

As a pioneer in ecology, Dr. Quarterman co-wrote a seminal 1962 paper about southern coastal plain hardwood and pine forests [Quarterman and Keever 1962]. She received her B.A. from Georgia State Womans College (1932) (now Valdosta State University), and her masters (Botany, 1943) and doctorate (Plant Ecology, 1949) degrees from Duke University. She was one of the first woman full professors at Vanderbilt University in Nashville, TN, where she became the first female department chair (Biology, 1964).

In 1969 she rediscovered the Tennessee coneflower (Echinacea tennesseensis) in the cedar glades of central Tennessee, which are her academic specialty [Quarterman 1950]. She demonstrated that different plants affect each other via chemicals they produce, which are in turn mediated by the chemical content and physical granularity of the soil. Her graduate students, their students, and Tennessee state parks honored her pioneering work by renaming the 30-year annual Elsie Quarterman Cedar Glade Wildflower Festival at Cedars of Lebanon State Park in her honor.

Dr. Quarterman is a member of Phi Beta Kappa and has been given awards by the Horticultural Society of Davidson County (1982), by SUNY-ESF (Sol Feinstone Environmental Aaward 1982) and by the Tennessee Native Plant Society (2008), among others. She has been a fellow of the American Association for the Advancement of Science, President of the Association of Southeastern Biologists, and chairman of the election committee for the Botanical Society of America, as well as acting director of the Tennessee Botanical Gardens at Cheekwood. She is the founder of the Tennesee Protection Planning Committee.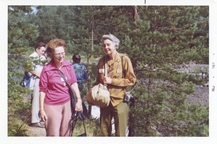 Her long-time co-author Dr. Catherine Keever remembered a conference in Edinburgh in 1964, "Elsie, being of Scottish ancestry, would buy anything with a thistle on it." They rented a car and drove from Caithness to London [Keever 1985].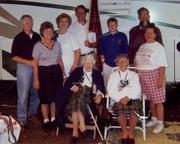 Steve Snoddy remembers, "On the Bouschor-led tour of Caithness in 1991, I followed Elsie down the rock slope at old Kiess Castle so we could track down something growing near the water's edge, this when she was in her eighties!" [Snoddy 2010].
Elsie and her older sister Mrs. Jane Sinclair Quarterman Comer (1905-2005) long attended the Grandfather Mountain Highland Games with family and friends, where they insisted in sleeping in a tent above the age of 90. In 2000 the sisters were given an award as the oldest campers.
before dining with family in Roslin Castle on the way to see Rosslyn Chapel.
As our driver James Campbell from Edinburgh sought an obscure location on a narrow Highland road, he suggested turning back, when a voice was heard back in the bus: "No, keep going! It's like a field trip with graduate students!" That was Elsie, of course.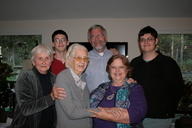 She lives today in her own house, connected to the house of her nephew Patrick and his wife Ann, where Steve Snoddy piped for Elsie's hundredth birthday.
As Aye, Elsie!
References
Keever 1985. Keever, Catherine. 1985. Moving on. A Way of Life. Brady Printing Company, 98 pages.

Quarterman 1950. Quarterman, Elsie. 1950. Major plant communities of Tennessee cedar glades. Ecology 31: 234-254.

Quarterman and Keever 1962. Quarterman, Elsie, and Catherine Keever. 1962. Southern mixed hardwood forest: climax in the southeastern Coastal Plain. Ecological Monographs 32: 167-185.

Snoddy 2010. Snoddy, Steve. 18 Nov 2010. Elsie's 100th. Email.
---
$Date: 2014/06/15 16:44:18 $